SALT LAKE CITY: Vibrant and eclectic
By Joyce Kiefer


"This is the Place!"
That's what Brigham Young said in 1847 when he stood at the pass through the Wasatch Mountains with his band of Mormon settlers and gazed down at the Salt Lake Valley in Utah.   The Olympics Committee agreed with him when they chose Salt Lake City for the 2002 winter games.    Once you know more about Salt Lake City, you might decide this is the place for your family vacation.

A FEW THINGS

Three things stand out about this small but vibrant city (Population 170,000):   the Mormon culture (Church of Jesus Christ of Latter Day Saints) that provides its identity; the memory of the Winter Olympics that brought the city international attention; and the great outdoors that frame its location.   At various times three generations of my own family have called it "home" since the 1960's, when my husband Bill and I lived there for two years.    Our daughter Julie and her husband Rich moved here shortly before the 2002 Winter Olympics and are now raising their two young sons in this city.   Each of our generations has discovered its own unique interests in Salt Lake.

The best place to meet the city is ground zero – Temple Square –literally the heart of town.   All the streets are numbered from this spot.    Each address has a set of two coordinates telling how far east or west, north or south its location is from Temple Square. Ours was 2042 East 3335 South.   Therefore, our apartment in the foothills was 20 blocks east of the Temple and 33 blocks south of it. Once you understand this grid, you can't get lost, my husband told me.  

The golden Angel Moroni stands poised with his horn atop the neo-gothic Mormon Temple, perhaps to let the newcomer know that the numbering begins on the corner to his right (Main and South Temple). Walk over to State Street for another fascinating structure – the Eagle Gate.   A two-ton bronze eagle with a wingspan of 20 feet sits atop a massive 4-legged arch spanning State Street by South Temple. The gateway was built in 1859 as the entrance to Brigham Young's farm.   The original eagle was a bit smaller.

One of Young's homes, the Beehive House, stands across the street and is open for tours. This was one of the first places I visited when we moved here.   I loved how cozy this house seemed, even though it belonged to a man who was head of his church and of the territory of Utah.    Look up the hill for a fine view of the state capitol. Do the streets seem wide?   They were designed to allow enough room for a team of four oxen and a covered wagon to turn around.

GENEALOGY

A genealogy aficionado, my husband found his own Zion at the Family History Library across the street from the west side of Temple Square.   For religious reasons the Mormons have collected a vast number of genealogical records, mainly from the U.S. and Europe.   Library workers are friendly and willing to help you trace your elusive great-great grandfather through microfilm, computer records, and reference books.   Like everything mentioned so far, there is no charge.

THE GATEWAY
Julie and Rich introduced us to The Gateway in the central area of town when we visited during the 2002 Winter Olympics.   This village-like shopping center had just been completed and looked like a movie set.   Now their two little boys consider this place a destination point. Ben – Age 1-1/2 -   loves the the Discovery Gateway (a four-story children's activity museum).   Adam – Age 4 – led us to the Clark Planetarium to watch an IMAX-like presentation on Saturn.   He had recently been to the IMAX theater at the center and was deliciously overwhelmed by a 3-D presentation on his favorite creatures – insects.    Before going to Saturn, Adam showed us the displays that re-created the surfaces of Mars and the moon.

OLYMPICS
If you go to The Gateway, be sure to check out the Olympic Legacy Plaza Snowflake Fountain on the hour or half hour when jets of water dance to music. To revisit icons of the 2002 Olympics, go to the Olympic Cauldron Park next to the University of Utah's Rice-Eccles Stadium where the opening and closing ceremonies took place.    From the street you can see the arch that formed the backdrop for the events and the soaring glass and steel cauldron. The visitor Center presents artful impressions of the athletes and events through a photo display and a 10-minute film.

When we visited this spot in January, Julie drove us through the campus, a familiar place to her since her husband teaches at the med school and she writes for the U's science websites and publications. Our destination was Red Butte Garden and Arboretum, someplace new for Bill and me. Snow covered almost everything.   I was fascinated by the magical shapes of bushes wrapped in burlap against the cold.   Despite the lack of greenery, I fell in love with this place nestled into a hill and along a creek behind the campus.   I sat in the vine-covered kid-sized tea house and peeked at the re-creation of an Indian cliff dwelling.   The park has hiking trails and paths that lead through a waterfall garden, pond, and floral gardens.   I'd like to return in summer with my grandsons for a picnic or concert.

LIBERTY PARK
But my time-tested favorite summer spot in Salt Lake City is Liberty Park, which stretches south from the center of town.   These shady old grounds include a pool, playground, paddle boats for rent, and a small seasonal children's amusement park where Adam has shown us how much fun a Ferris Wheel can be.   He enjoys exploring Seven Canyons fountain that is shaped like the mountain canyons behind the city.   As a bird lover, I can't leave without visiting some of the 400 birds at the park's Tracy Aviary.   Check their website to see how you can participate in Avian Encounters.

As for winter, Julie and her family (yes, the 4-year old skiis) hit the slopes in the same amount of time as it takes to get everyone dressed and load up the van.   The Wasatch Mountains directly behind the city offer world-class skiing in canyons within a half hour drive from town.   Park City is about 40 minutes away.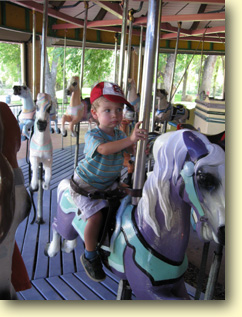 Like most locals, Bill and I always loved those canyons.   Big and Little Cottonwood and Millcreek were our favorites. In fall the oak brush, aspen and maple set the canyons ablaze with color.   In winter icicles hang from the cliffs along the roads that led to the ski resorts.   Snow may come and go from the valley, but here you'll find it all winter long and into the spring. In summer bursts of wildflowers and welcome relief from the valley heat make them lovely places for hikes, picnics, even concerts.

Have I missed the elephant in the room – the Great Salt Lake?   When I was 12, I visited Salt Lake City for the first time on a cross-country road trip with my parents. We stopped at the Saltair Pavilion in nearby Magna and walked out into the water.   Did I float?   Sort of.   Then a wind came up and made the drying salt feel like needles on my skin.

With so much to see and do in Salt Lake City, why bother with the salt?
Location:   Two Interstate highways - Routes I-70 (east/west)   and I-15 (north-south) – intersect at Salt Lake City.
Tracy Aviary is open 9 a.m.-4:30 p.m.   Admission is $5.00 for adults, seniors and students, $4.00, and $3.00 for children 4-12.   Wear a scout uniform and get in free.   Location is the corner of Liberty Park on 500 East at 1300 South.   See www.tracyaviary.org  
Liberty Park:   900 to 1300 South, bounded by 500 East and 700 East.
Red Butte Garden and Arboretum is open at various times throughout the year.   Check their website at http://www.redbuttegarden.org/ .   Location is 300 Wakara Way on the University of Utah campus.   Admission is $6.00 for adults 18-64, $4.00 for seniors and children 3-17.   Children under 3 are free.
Discovery Gateway is open Monday-Thursday 10 a.m. to 6 p.m., Friday and Saturday 10 a.m. – 8 p.m., and Sunday noon – 6 p.m.   General admission is $8.50.   Seniors are $6.00.   Enjoy their website
http://www.discoverygateway.org/
Clark Planetarium is also in the Gateway Mall. Since information on presentations and schedules is fairly detailed, take a look at http://www.clarkplanetarium.org/shows/schedule
Both are located in the Gateway Mall at 400 West 100 South.    
Olympic Cauldron Park is located next to the stadium on the University of Utah campus at 451 South 1400 East.
For information on a walking tour go to: http://www.utah.com/cities/slc_walking.htm
What's going on: a number of professional and college sports events plus a good choice of cultural events.   To see what's happening during your visit and to find out more about Salt Lake City – there's so much more than what I've described –   go to: www.saltlakecityutah.org/aboutsaltlake.htm
Transportation:   The city provides free transportation in the downtown area.   For information on the entire public transportation system, including TRAX, go to http://www.rideuta.com/ridingUTA/default.aspxaa
Related info: 55 Arboretums Everyone Should Put on Their Bucket List - See www.sproutabl.com/arboretums 

GLORIOUS EATS:   Julie and Rich are foodies.   They recommend the following:
Downtown Farmer's Market , Pioneer Park at 300 South 300 West, open Saturdays 8 a.m.- 1 p.m. June 12 – October 16,  and also on Tuesdays 4-8 p.m. from Aug. 3 – Oct. 12.   Wonderful produce, free tasting, food to go, plus arts and crafts.
314 West 300 South
The deli turns into a nice Italian-inspired dinner restaurant, Tipica on Wed. - Sat nights
Mazza – middle eastern cuisine. 2 locations. The 9th and 9th location is larger, nicer, and newer. http://www.mazzacafe.com/
1515 South 1500 East Salt Lake City, UT 84105
Settebello – www. settebello.net
(downtown)   Great pizza
260 South 200 West
Forage
http://www.foragerestaurant.com/
Upscale – offer 3 course menu or multi-course tasting menu
Chefs trained in SF and at the French Laundry
370 East 900 South
Takashi Sushi
18 West Market Street
Urban atmosphere, fresh sushi and Japanese-inspired small plates