Slack Key Guitar in Maui with delectable pre-concert eats
By Kathy Chin Leong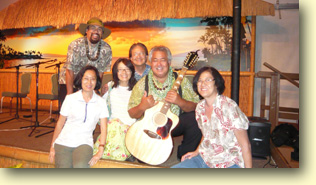 Instead of dinner and a movie, we recently experienced dinner and slack key. It was "da best!" The strums of Hawaiian slack key guitar coupled with an island sunset always gets me grinning, and every Wednesday at the Napili Kai Beach Resort in Lahaina, Maui, visitors have the wonderful privilege of listening to a slack key concert on the premises of the hotel's Aloha Pavilion.
It's a must-see and must-listen-to in Maui, and an idyllic way to spend an evening. Better yet, a dinner at the hotel restaurant, the Sea House, is an excellent means of getting filled up in the tummy before getting filled up in the ears.
SEA HOUSE
On our visit, we enjoyed fabulous eats at the Sea House. The dizzying menu has so many tantalizing dishes that we decided to go all out, emphasizing our desire to choose items with very Hawaiian ingridients. Of the yummy appetizers we tried, I loved the clever "Maui Beach Balls," little mounds of rock shrimp, mahimahi, scallions, cheese, corn and rice in a furikake crust with mango mustard. Mouth watering? You bet!
I consumed a heavenly Hawaiian white fish which delighted my palate with a light sauce. Distinctive here are the different options of preparations customers can choose for their fish dishes. You can get your fish grilled, crusted with taro chip, topped with pineapple rum sacuse, crusted ith macadamia nuts, or oven roasted, or topped with a garlic wine butter sauce.
When we had a plethora of desserts to try, it was really fun. Because these were island tastes, we could not pass up the pineapple tiramisu with pineapple cake drizzed with guava and an incredible caramel macchiato kona coffee ice cream pie.
THE CONCERT
The concert took place promptly at 7:30, and we enjoyed every note, every artist. The concert was led by its emcee, George Kahumoku, who oversees the music each week. Throughout the 90 minute event, a handful of artists were on hand to offer their very best works, and in between, hula dancers came to entertain the crowd.
The show was sweet and homey, and engaging to everyone in the audience. On the regular ticket are guitarists, Da Ukulele Boyz, and soloist Sterling Seaton. It was classic Hawaii to be in a room full of Hawaiian shirts and dresses, and the energy of the audience was positive and enthusiastic.
Guest slack key artists came to the stage with a variety of songs that kept everyone smiling. Something about slack key rhythms and the clarity of the notes is pure and honest, and none of the performers disappointed. After all George Kahumoku is a multiple Grammy award winner for best Hawaiian album.
With all the songs and hula dances, it was a cherished set of performances. At the end, we all rushed to the tables to buy CDs of the artists, a perfect way to bring home a souvenir of our evening.
****
DETAILS:
Napili Kai Resort
5900 Lower Honoapiilani Road, Lahaina, HI 96761
Phone: (808) 669-6271 - Fax: (808) 669-5740
For Sea House - www.napilikai.com
For Slack Key concert - http://www.slackkeyshow.com/