Arka: Festive Indian Fare comes to Sunnyvale
By Kathy Chin Leong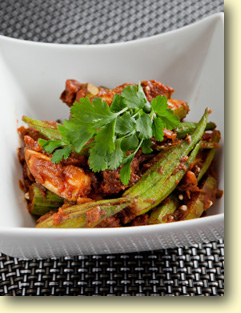 Where's the party? Apparently, there seems to be a perennial party at Arka, Sunnyvale's newest Indian restaurant that has taken over the spot where Spoons left off. Upbeat music, contemporary styling with vibrant hues and cool drop-down pendant lighting and cheerful, intelligent staff announces that this upscale Indian dining establishment is here to stay. Let's hope so.

The menu is full of traditional Indian favorites and some new things many may not have tried before. Nonetheless, the techno beat and hip bustling bistro feel of the place makes you eager to try the most out-there thing on the menu. Each menu item has a symbol explaining whether the item is gluten free, vegan, or contains no onion or garlic.

DINNER OUT
On my visit on a Monday night, I was surprised to find it more than half full around 7 p.m. My friend was in a good mood, and I, too, was anxious to see what the fuss was about. Our server set down a white bowl of spicy peanuts, which were crunchy and fresh. For starters we tried the watermelon salad ($6.95) which features sweet watermelon cubes tossed with tomatoes, basil, almonds and something called the achar oil vinaigrette. The salad was refreshing and lightly seasoned to taste. Thumbs up on that one.

The tandoori agaz sampler ($10.95) was a treat that included a plate of chicken, lamb, and zaffrani mirch jhinga which was something I am very unfamiliar with. It would have been nice if it was defined on the menu. Nonetheless, the platter of food was lovely in presentation on its white platter (all dishware is white), and the spiciness was tasty and kept us downing our waters.

EXCELLENT QUALITY

I am glad to report that the quality and quantities matched nicely. Not too big, not too small. Excellent flavor pairings, and each dish was a treat in itself. A side order of the garlic chili naan with garlic and serrano chili spread ($2.45) featured the right amount of chew with a light texture. I was afraid it would be too much heat for me, but it was lightly spiced, and I could have eaten more baskets on my own.

We ordered two main dishes- the butter chicken ($13.95) and the rosemary lamp chop ($19.95). The chicken, cut into chunks, arrived in a deep bowl in a tomato sauce with fenugreek. Sweet and flavorful, I am glad we had rice to enjoy the sauce. We divided the four bones of rosemary seasoned lamp chops that were cooked to perfection and tender to the bite.
Along with a mouth-watering menu, there is plenty of eye candy to look at all around you in this voluminous space. There is a bar in the front of Arka lit with ambient blue lights from below the countertop; then an array of cushy booths and a host of separate tables and chairs fill in the gaps. The restaurant is deep, so there is plenty of space to divide the restaurant for private parties.

MINOR GLITCHES
We enjoyed our meal thoroughly with only a little glitch so far. The side order of rice came topped with a few peas that were chewy for some reason. Some looked a little dehydrated; others were fine. I recommend nixing the peas. They didn't add to the meal.
For dessert, we ordered a lemongrass creme brulee ($6.95) and lychee kheer, a rice pudding with lychee ($5.95). The sugar crusted creme brulee was decidedly different. To me the sugar topping was perfect,but the eggy custard beneath was grainy with sugar, and it was too sweet. The rice pudding, however, was perfect with the right amount of bite to the rice while the cardamom flavor was carefully balanced, not overwhelming. Little bits of lychee were luscious. Too bad there was only one whole lychee in the whole thing.

With the array of savory menu items, I do suggest lengthening the dessert options to match. This will, I'm sure, come in time. I think that a signature dessert that would blow the socks off the patrons would come in handy for folks who want to come in a little later, like after a show for drinks and a sweet treat.


Bottom Line: I cannot wait to come here again. There is a nice cocktail, beer, and wine menu that is quite prolific, and the dishes are tantalizing and bursting with excellent spices and flavors. Dessert was not my favorite, but there's so many great things to say about Arka that I am confident will enable to stay in Sunnyvale for a long, long time. I estimate it will be a popular foodie's destination, business lunch spot, romantic dinner haunt, and birthday and party place for years to come.

****
DETAILS:
Arka
725 S. Fair Oaks Ave.
Sunnyvale
408/RED.ARKA
www.arkarestaurant.com
Open daily for lunch and dinner.
Lunch buffet $10.95 M-Th.; $11.95 F-Sun.